Volunteer work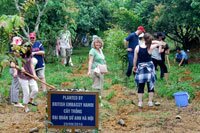 The national park can organize volunteer work for visitors who have time and are interested. Volunteers can work in the conservation centers (Turtle Conservation Center, Endangered Primate Rescue Center, deer farm) as well as work on the tree planting and visitor awareness program.
At the moment we are looking for a person or organization that can support us in different ways to raise money for activities in the park.
For further information please contact the address below, or e-mail us.
1. Department of Science & International Cooperation.
Cuc Phuong national Park.
Nho Quan district, Ninh Binh province, Vietnam.
Tel:
Fax:
Email:
OR
2. Environmental Education & Ecotourism Center.
Cuc Phuong National Park.
Nho Quan district, Ninh Binh province,Vietnam.
Tel:
Fax:
Email: This e-mail address is being protected from spambots. You need JavaScript enabled to view it