Social media leads to transfer of endangered turtles to the Turtle Conservation Centre in Cuc Phuong National Park, Vietnam
On the June 17, 2013 the Turtle Conservation Centre (TCC) in Cuc Phuong National Park, Vietnam, received three rare turtles from Hanoi after a local resident realised the importance of the endangered turtles after learning about the TCC and the centre's turtle conservation efforts on 'Facebook'.
Increasingly popular in Asia Facebook in Vietnam alone is reported to have over 12 million users. The site has also offered conservation and development NGO's to reach a wider audience with both the Asian Turtle Program (ATP) and TCC gaining popularity with the Vietnamese public. Such awareness opportunities are essential, especially when considering wildlife traders are also increasingly using such social media to sell wildlife.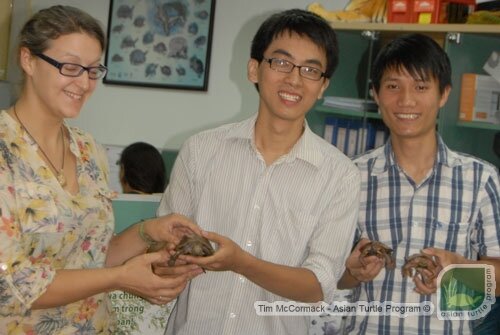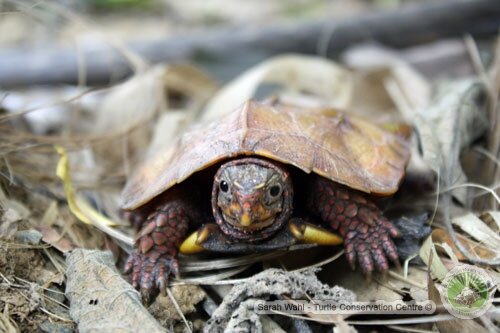 So it is rewarding to see the results positive social media can bring, with 22 years old Nguyen Hong Quang from Hanoi searching for care instructions for his turtles but instead making the decision to transfer them to a dedicated rescue centre. The two Black-breasted leaf turtles (Geoemyda spengleri) and a Keeled box turtle (Cuora mouhotii) are both endangered (IUCN 2012) and were apparently purchased a year ago by his friend at the Perfume/Huong pagoda in My Duc District, Hanoi. (When asked why he was transferring the animals) Mr Quang said "I have been taking care of the turtles since my friend moved and gave them to me. I kept them in my house, fed them tomatoes and worms but didn't really have an enclosure for them. Although I have grown very fond of them, I don't really know how to take care for turtles. When I was searching the internet for information about turtles, I found the  and thought TCC is the perfect place for them and the staff there will know how to take care of my pets".
In the afternoon of June 17, 2013 Katherine Morgan, a volunteer veterinarian at the TCC, transferred the animals to the TCC where they undergo routine health checks and are cockered-up until they can join the main turtle population at the TCC. Mr Phong welcomed the turtles at the TCC saying "we were so surprised to receive Quang's message. We never thought that awareness from our Facebook page would result in such a positive and smooth rescue operation. I hope that success story will encourage other people to also transfer their pet turtles to the TCC, but more importantly to consider the wildlife before they buy, it belongs in the wild and many species are difficult to keep and are protected under Vietnamese law".
18th June 2013
Press release by ATP & TCC