Xuan Bac in Cuc Phuong Turtle Conservation Center
On the 13th of October 2013, Mr Xuan Bac, a famous Vietnamese comedian and nearly 40 children of his member club visited Cuc Phuong National Park and the Turtle Conservation Center (TCC). The group was very exciting to hear a short turtle conservation introduction and enjoyed walking in the steps of a turtle keeper assisting in the task of turtle identification and feeding. TCC staff accompanied the children through the rescue center and while the kids were feeding the turtles and TCC staff answered many questions about turtle ecology and husbandry.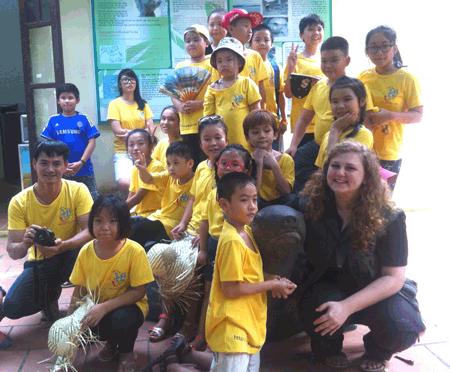 Xuan Bac and 40 children at TCC 
Mr. Xuan Bac who is an ambassador for the Rhino protection and a spokesperson for the illegal wildlife trade said: "The Cuc Phuong Turtle Conservation Center is a flagship for turtle conservation efforts in Vietnam and is the best place to learn about turtle conservation and the Visitor Centre is amazing and especially the kids enjoyed coming here". Currently over 700 turtles representing 18 of Vietnam's 25 native species are being kept at the TCC. Most animals at the TCC have been confiscated by wildlife protection authorities from the illegal trade or were hatched at the center.